Children's Dental Services in Calgary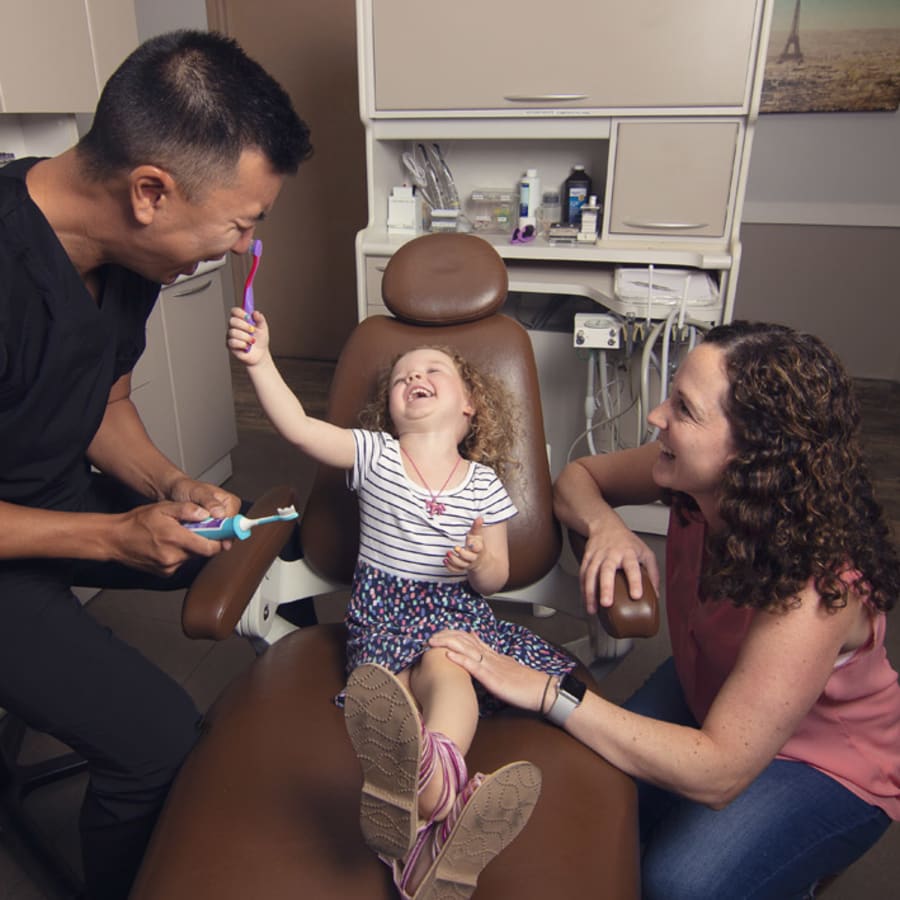 Low-Stress Dental Experiences
Put yourself in your child's shoes and you'll understand why they might be nervous about visiting the dentist. New sights, sounds and smells can put children on edge. This is why we take the time to ensure your child's dental experiences are comfortable and low-stress.
Early encounters can affect how kids feel about the dentist as they grow up. A child's first interaction with their dentist can stay with them long past the time they leave a dental clinic. 
Knowing this, our dentists and team in Southwest Calgary believe that helping children feel at ease is key. From the moment a child's dental appointment begins, we aim to create a low-stress experience to create a positive association with maintaining their dental health as they grow. 
We are committed to offering guidance and age-appropriate education about the techniques and practices that will make a difference in their at-home oral hygiene routine. Our approach to your child's dental care is designed to help set your kid on the path to excellent lifelong oral health.
Model Healthy Dental Habits
Seeing you brush, floss and take good care of your teeth every day can help inspire your kid to do the same. Consider brushing together during your morning routine.  
Turning tooth brushing time into a fun interaction can help foster positive memories when it comes to helping your child maintain a white, healthy smile. Take a couple of minutes to dance, smile and laugh while cleaning your teeth.
Dental Services for Kids
Our dentists are here to help your child keep their smile healthy and bright. Canyon Creek Dental Clinic offers preventive and restorative services to meet their needs.
Preventive Dental Hygiene
Bringing your child to the dentist for regular exams and cleanings will help preserve their primary teeth until they are ready to fall out. At each appointment, we will review proper oral hygiene practices to make sure your child's smile is receiving the care it needs at home. 
Restorative Dental Services
Whatever oral health issue your child is facing, our approach is designed to set them on the path to a better smile. Our dental team can help correct misalignment issues, including repairing cracks or cavities. We can also recommend restorative treatments to prevent further damage to teeth. These treatments will help to preserve proper function so your child can eat, chew and laugh with confidence.